31
October
Telematics Update October 2020
2020 has been a year with many hoops, hurdles and obstacles thrown our way.

Combatting this in the telematics industry has required an audacious operation to work around restrictions COVID has brung upon.

In a recent questionnaire, the Australian fleet Managers Association surveyed organisations seeking detail into how they dealt with the pandemic, telematics, the future of fleet & automotive and some recommendations for those working without telematics.

Here is what we at IntelliTrac had to say.
How has COVID-19 affected your business and how have you adjusted?
Having managed international offices from Australia since 2004, we had all the systems in place to work from home.

Many of our staff in Australia had been working from home for many years. To ensure staff safety, we quickly implemented online staff Wellbeing and WHS checks within our telematics platforms. Our existing systems allowed us to easily work remotely. With fewer interruptions and distractions, we found that staff productivity increased substantially.
Our warehousing and fulfilment teams continued to work from the office as A and B teams, as business continuity into essential and emergency services was foremost in keeping our clients operational. Covid-Safe practices including work and temperature logs were implemented using online forms built within the telematics platform.
Field service and installation technicians continued to work in the field, managed by our IntelliTrac Telematics and Bizzow Field Service Management Systems. These were configured to additionally monitor and enforce Covid-Safe work practices.
Newly accepted technologies such as Zoom and Teams have lowered the expectations of face to face client meetings and provided more opportunities, more sales and more clients. We have never done more presentations and never had as many staff and internal category matter experts attend client pitches. We have never been busier. Our order books are full.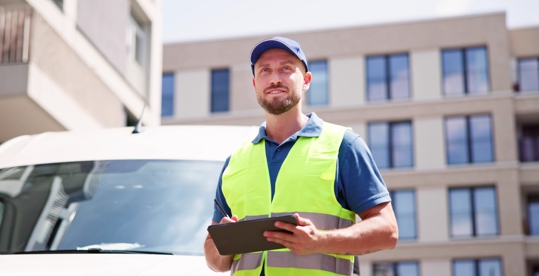 How are telematics being used to make fleets safer from both a COVID-19 perspective and in a general sense?
At IntelliTrac we use our GPS Telematics and Electronic Work Order Systems within our business. We practice what we preach, and this reflects in the message we send out to our clients.
IntelliTrac GPS Telematics and Work Order Systems improve fleet safety by:
Identifying who is driving the vehicle at any time. This is especially important if a duress alert is triggered.
Employee fit for work declarations (Covid-Safe)
Vehicle pre-start checks
Bizzow fieldwork allocations with routing, navigation and rest break planning
Electronic Work diaries – FBT logging
Driver behaviour monitoring and in-vehicle automated coaching
SOS buttons, impact and rollover sensors, remote tyre pressure monitoring
Engine diagnostic codes
Electronic WHS SWMS forms and checks at the start of each job – Client vehicle sanitisation checks, photos
Electronic QA form checks at the end of each job
Live video telematics - lane departure, frontal collision alerts, driver distraction and drowsiness, mobile phone use and smoking.
Evening safety sign off – Home safe every day!
The IntelliTrac solution is also used as a single source of truth for all fleet-related activity.

The solution maintains all vehicle data including service records, safety check, insurance and registration reminders. It also retains driver log data that includes licence details, demerit points as well as an incident and infringement register.
Safety is our number one priority at IntelliTrac. It is a top-down cultural approach which propagates throughout the business and onto our clients.
What cost savings have you noticed from customers that have utilised your telematics?
"De fleeting". Fleet managers are able to quickly identify underutilised vehicles and either transfer them to other departments or choose to dispose of them.
Using IntelliTrac's Telematics Car-Pool software to maximise utilisation of management vehicles during the day where they would normally just be sitting idle.
Savings in maintenance and fuel due to better driving behaviour.
Improved work efficiency as a result of better work order routing and scheduling with Bizzow.
Fuel Tax Credits maximisation and substantiation.
Savings in repairs due to preventative maintenance systems and alerts.
FBT administrative savings.
What are some of the ongoing challenges that you think will affect the automotive industry moving forward?
Electric vehicles requiring less maintenance and having longer lifecycles will result in reduced new car sales. IntelliTrac will be embarking on an electric vehicle program for its next fleet replacement.
Working from home means a reduced need for company vehicles for managers and sales staff.
Car-Pooling/Rideshare (Post Covid-19) Better utilised vehicles will affect new car sales.
What would you say to businesses that aren't currently utilising telematics?
That's simple:
They are running blind. Sooner or later it will bite them.
They are piecing together data from manually entered processes which are inefficient and possibly inaccurate due to manual entry errors.
They don't have immediate visibility to emerging issues or trends.
You can't make good decisions without good data.
Is there a specific telematics product or feature that you have developed that you think makes a fleet managers life easier?
We provide a complete solution which becomes a single source of truth by combining vehicle acquisition and disposal processes, fleet management, driver behaviour, work order scheduling, electronic forms, fuel and service management and expense monitoring. The vast data collected can be easily displayed in our
i-cubed
dashboard (IntelliTrac Image Intuition) allowing fleet managers to make intuitive decisions about their vehicles' cost of ownership.